Flood Insurance in Tennessee
Get a quote in under 3 minutes - Save up to 40%
Get a Tennessee Flood Insurance Quote Today
Apply for your
insurance quote and save on residential and commercial flood insurance today.
In a high-risk state like Tennessee, flood insurance isn't always easy to understand — especially when it comes to premiums and elevation risks.
Our clients can save
up to 40% on the cost of their premiums thanks to our robust insurance network and proprietary technology that leaves no stone unturned. It takes only minutes to apply, and the process enables you to purchase ironclad coverage at the lowest price possible.
ALL CARRIERS A+ RATED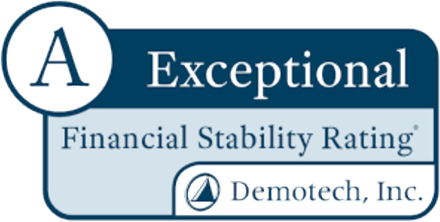 Flood Insurance Tennessee
Home and Commercial Flood Insurance in Tennessee
Whether you're a home or business owner, protecting your property is a priority. However, standard insurance policies don't include coverage for the most common natural disaster in America: flooding.
If you're in Tennessee, you may wonder how flooding risks affect you. As weather patterns become increasingly severe and unpredictable across the nation, Tennessee is no exception. From April 2021 to March 2022 alone, five federally-declared disasters occurred in the Volunteer State.
If your home and business lacks dedicated Tennessee flood insurance, you take on the responsibility of paying all flood-related damages out-of-pocket. Rocket Flood is dedicated to defending your property against the financial risks of flooding. With comprehensive flood insurance in Tennessee, your home or business can recover faster with minimal costs.
With 14% of all properties in Tennessee facing a greater than 26% of severe flooding over the next 30 years, investing in a flood insurance policy is more important than ever. Protect your property and request your customized Rocket Flood insurance quote today.
Flood Insurance Rates in Tennessee
Competitive Rates
Lower your premiums without lowering your coverage. Our Tennessee flood insurance policies are sourced from more than 20 A-rated flood insurers with five-star reputations for quality, service, and support.
Uncover low insurance premiums for high-quality coverage by filling out our quote request form today
Specialists in Flood Insurance
Insurance is complicated enough, so choose an insurer that understands the industry inside and out. Our team of insurance specialists have the expertise and know-how needed to unlock the lowest prices while ensuring residential and commercial properties are protected in full.
Save up to 40% on your insurance premiums with the Rocket Flood team on your side.
LiDAR Technology
Spend less on flood insurance thanks to Rocket Flood's LiDAR technology, the same technology used by the U.S. Military and NASA. Benefit from exclusive elevation discounts and pay only for what you need. Our cutting-edge technology provides access to premiums that reflect the flood risk of your home and business.
LiDAR technology accurately pinpoints elevation measurements for your property and makes sure you don't pay for more than you need.
Comprehensive Coverage
Rocket Flood offers up to $20 million in building coverage and $5 million in personal content coverage. Prepare for the worst with comprehensive coverage and a range of policy enhancements, including:
  Loss of Rents
  Loss of Use
  Pool Repair/Refill
  Basement Contents
  Replacement Cost on Contents
  Other Structure Coverage

Quick Sign Up
Apply for Tennessee flood insurance from the comfort of your home. Rocket Flood uses proprietary technology to harness the power of automation for quick and easy sign up.
Our 1-2-3 approach to insurance takes only a few minutes to sweep the entire private flood insurance marketplace and deliver tailored quotes. Get started with a few clicks today!
How to Buy Flood Insurance in Tennessee
Forget high flood insurance rates in Tennessee and purchase a policy that matches your needs and your budget. Our streamlined flood insurance platform makes taking out flood insurance in Tennessee simple. In fact, it only takes three steps!
Get a Tennessee Flood Insurance Quote
Rocket Flood guides you every step of the way with a dedicated customer support team that is always ready to help. Contact us today to learn more!
Get a Affordable Tennessee Flood Insurance Quote
States we Serve
California
Texas
Florida
New York
Pennsylvania
Illinois
Ohio
Georgia
North Carolina
Michigan
New Jersey
Virginia
Washington
Arizona
Massachusetts
Tennessee
Indiana
Maryland
Missouri
Colorado
Wisconsin
Minnesota
South Carolina
Alabama
Louisiana
Kentucky
Oregon
Oklahoma
Connecticut
Utah
Iowa
Nevada
Arkansas
Kansas
Mississippi
New Mexico
Nebraska
Idaho
West Virginia
Hawaii
New Hampshire
Maine
Montana
Rhode Island
Delaware
South Dakota
North Dakota
Alaska
Vermont
Wyoming
Tennessee Flood Insurance FAQs
How much does flood insurance cost in Tennessee? Are you legally required to hold flood insurance at all? Choosing the right policy isn't easy, and we know you probably have questions. Here are answers to some of the most frequently asked questions regarding flood insurance in Tennessee.
Still have questions? Check out our FAQs page.