Flood Insurance in Louisiana
Get a quote in under 3 minutes - Save up to 40%
Request Your Louisiana Flood Insurance Quote Today
Choose the #1
flood insurance company that can help you save up to 40% on your premiums. Fill out our online quote request form and receive customized estimates that make complicated flood protection simple.
Leverage the proprietary
technology that can save you money, protect your property, and give you peace of mind. Request your quote today.
ALL CARRIERS A+ RATED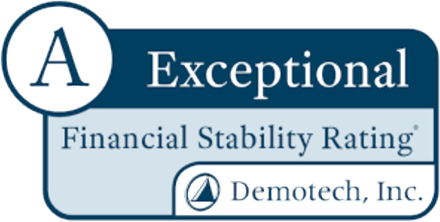 Flood Insurance Louisiana
Home and Commercial Flood Insurance in Louisiana
Flooding is the most common natural disaster in America, putting American homes and businesses across the nation at risk. With Louisiana boasting the third longest coastline, behind only Alaska and Florida, the Bayou State sees 955,000 people at risk of coastal flooding annually.
Few states have as high of a flooding risk as Louisiana, and standard insurance policies don't include coverage for flood-related damages. At Rocket Flood, we're dedicated to providing comprehensive flood insurance in Louisiana for home and business owners across the Bayou state.
According to the Coastal Protection and Restoration Authority, storm surges could cause $5.5 billion in annual damages in just six years. With most home and business owners not protected by Louisiana flood insurance, investing in coverage is essential to avoiding paying for damages out-of-pocket.
Rocket Flood is the #1 flood insurance provider supporting homes and businesses in Louisiana. While we can't prevent flooding, we can provide competitive Louisiana flood insurance rates with maximum protection at an affordable price.
The threat of flooding is increasing, with an estimated $50 billion in tropical cyclone-related damage across the Pelican State in 2020. Protect your home or business by requesting a customized quote today.

Flood Insurance Rates in Louisiana
Competitive Rates
Investing in comprehensive flood insurance is critical to protecting your home or business. At Rocket Flood, we aim to provide the highest-quality coverage at the lowest prices through our network of more than 20 A-rated flood insurers.
When you partner with Rocket Flood, you can save up to 40% on your premiums. Fill out our quick insurance form and get an instant flood insurance quote in Louisiana in minutes.
Specialists in Flood Insurance
At Rocket Flood, we specialize in providing flood insurance to property owners across the country. We are proud to protect homes and businesses with a dedicated and professional team that understands the ins and outs of the industry.
Connect with experts committed to getting you the best deal on flood insurance, guaranteed.
LiDAR Technology
Unlock exclusive discounts on flood insurance with precise elevation measurements using state-of-the-art LiDAR technology. Our advanced technology, used by major names like the U.S. Military and NASA, makes sure you don't pay for more than what you need.
Pay less for your flood insurance and get a quote that matches your needs and your budget.
Comprehensive Coverage
Leave nothing to chance with a premium insurer that ensures all your bases are covered should heavy rainfall and storm surges strike your neighborhood.
Rocket Flood can insure your property with up to $5,000,000 in personal content and $20 million in building structure coverage. Be prepared for anything with a selection of targeted policy enhancements, including:
  Loss of Rents
  Loss of Use
  Pool Repair/Refill
  Basement Contents
  Replacement Cost on Contents
  Other Structure Coverage

Quick Sign Up
Make applying for and confirming your flood insurance policy effortless with a digital approach. Get a customized quote and sign up for flood insurance with just a few clicks!
Sign up for flood insurance in Louisiana online with our powerful digital solution that reveals a top-tier selection of the industry's lowest quotes in minutes.
How to Buy Flood Insurance in Louisiana
Our platform is equipped to answer all your questions about the costs of insurance in flood zone X in Louisiana, how much flood insurance in New Orleans and surrounding areas will cost, and much more.
Get tailored quotes for your flood insurance policy with our fast 1-2-3 approach to insurance:
Get a Louisiana Flood Insurance Quote
Got questions? The Rocket Flood customer service team is always available to help. Contact us today!
Get a Affordable Louisiana Flood Insurance Quote
States we Serve
California
Texas
Florida
New York
Pennsylvania
Illinois
Ohio
Georgia
North Carolina
Michigan
New Jersey
Virginia
Washington
Arizona
Massachusetts
Tennessee
Indiana
Maryland
Missouri
Colorado
Wisconsin
Minnesota
South Carolina
Alabama
Louisiana
Kentucky
Oregon
Oklahoma
Connecticut
Utah
Iowa
Nevada
Arkansas
Kansas
Mississippi
New Mexico
Nebraska
Idaho
West Virginia
Hawaii
New Hampshire
Maine
Montana
Rhode Island
Delaware
South Dakota
North Dakota
Alaska
Vermont
Wyoming
Louisiana Flood Insurance FAQs
Louisiana is vulnerable to natural disasters, especially when it comes to flooding. When risks are this high, you want to ensure you have a policy that protects you from all angles. To help you make the right choice when it comes to your property, here are answers to some of our client's most frequently asked questions.
Don't see your question? Check out our FAQs page.