Flood Insurance in New Jersey
Get a quote in under 3 minutes - Save up to 40%
Get a New Jersey Flood Insurance Quote Today
Find the best rates on flood insurance in under three minutes and take the headache out of your search.
Save up to 40% on the cost of your flood insurance premiums with our proprietary technology that sweeps the current insurance marketplace and yields you the guaranteed best rates.
Whether you are looking to buy a new home, expand your business, or want the peace of mind of knowing you will not be left with high out-of-pocket costs should the worst happen, get your Rocket Flood quote now.
ALL CARRIERS A+ RATED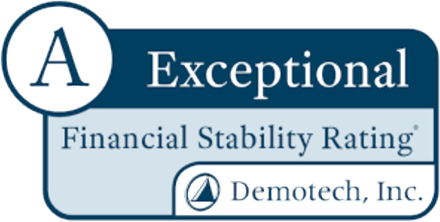 Flood Insurance New Jersey
Home and Commercial Flood Insurance in New Jersey
Mass flooding is often associated with states like Florida and Louisiana due to the number of hurricanes and tropical storms that occur throughout the year. But did you know your home in New Jersey could be more at risk than you think?
According to the latest data from FEMA, 99% of counties in the U.S. have suffered a significant flooding event in the last 50 years. In other words, nobody is truly safe from the threat of flooding.
Your standard homeowners insurance excludes flooding coverage, meaning if your home or business floods, all the rehabilitation costs will come directly from your pocket.
Rocket Flood is the super-powered flood insurance agency protecting homes and businesses across the Garden State with comprehensive coverage at affordable prices.
New Jersey properties have one of the highest risks of flooding in the country, with all counties reporting 50 or more flooding events every year. New Jersey flood insurance is not mandatory by law, but most providers will make flood coverage a requirement if you want to obtain a mortgage.
Defend your property and ensure your home isn't compromised with flood insurance in New Jersey.

Flood Insurance Rates in New Jersey
Competitive Rates
The cost of flood insurance in NJ can reach nearly $1,000 per year. We aim to beat that. At Rocket Flood, we utilize the latest technology to ensure you get affordable coverage.
Fill out your quote request in minutes, and we will provide you with the best prices from more than 15 reliable flood insurance providers in your state.
Pay less for more with Rocket Flood.
Powerful Partners
We always make clear promises about getting you the best deal. Rocket Flood works with every major flood insurance company in New Jersey and all 49 other states.
Our partnerships empower us to find you the best New Jersey flood insurance quote possible. The Rocket Flood team vets every insurer to ensure our clients have the peace of mind that comes with knowing they are working with a reliable insurer with their best interests at heart.
Specialists in Flood Insurance
Our philosophy is quality should always come before quantity. Work with Rocket Flood, and you know you are working with a flood insurer agency that puts people first.
If you're searching for flood insurance policies in New Jersey and nationwide, you can count on Rocket Flood. Our team is comprised of specialists who understand the unique needs of home and business owners, allowing us to address the most common frustrations you have about searching for and taking out flood protection.
LiDAR Technology
Are you tired of paying more than you believe your flood insurance in New Jersey is worth?
Every home and business comes with its own risk profile. Unfortunately, some insurance providers fail to account for these nuances, meaning you could be paying more than you should for your flood coverage.
Rocket Flood uses LiDAR technology, the same technology used by agencies like NASA and the U.S. military, to take detailed images of the terrain around your home. We can pinpoint the precise elevation of your home, thus making you eligible for discounts.
If your home is on a hill, do you believe you should pay the same price as someone on the coastline? Of course not!
With Rocket Flood, your quote directly correlates with the risk of floods in your neighborhood. Our clients save an average of 40% on their premiums. Get a quote now that reflects your reality.
Comprehensive Coverage
Cheap flood insurance in NJ does not have to mean giving up your protection. Unlike sub-standard insurers, Rocket Flood guarantees your insurance policy offers exactly what you need.
Our programs provide up to $5,000,000 in personal content coverage and up to $20,000,000 for the building. These high coverage limits make our flood insurance in New Jersey ideal for high-value homes, large businesses, and sprawling industrial facilities.
Need extra coverage?
Rocket Flood also offers enhancements for your policy, including:
  Loss of Use
  Loss of Rents
  Replacement Cost on Contents
  Other Structure Coverage
  Pool Repair/Refill
  Basement Contents

No other insurance specialist goes further than us in ensuring New Jersey residents' homes and businesses are protected with no hidden fees or loopholes.
Quick Sign Up
Superior technology enables us to provide tailored quotes for your home or business in as little as three minutes.
Unlike other brokers who request quotes manually from every partner insurance company, our dashboard quickly sweeps the whole marketplace.
Follow our simple three-step process to obtain the latest NJ flood insurance rates:
Get a New Jersey Flood Insurance Quote
As you can see, taking out flood coverage with Rocket Flood is as easy as 1-2-3
Passionate About Serving You
At Rocket Flood, we understand how frustrating dealing with insurance can be. How do you know if you have the right coverage? Will your insurer support you if you need to make a claim? Are you getting the best possible rates?
With decades of collective experience, we are passionate about reducing your bills without lowering your coverage and take pride in providing the gold standard in service.
If you have any questions during the process, we are eager to answer them for you.
Get a Affordable New Jersey Flood Insurance Quote
States we Serve
California
Texas
Florida
New York
Pennsylvania
Illinois
Ohio
Georgia
North Carolina
Michigan
New Jersey
Virginia
Washington
Arizona
Massachusetts
Tennessee
Indiana
Maryland
Missouri
Colorado
Wisconsin
Minnesota
South Carolina
Alabama
Louisiana
Kentucky
Oregon
Oklahoma
Connecticut
Utah
Iowa
Nevada
Arkansas
Kansas
Mississippi
New Mexico
Nebraska
Idaho
West Virginia
Hawaii
New Hampshire
Maine
Montana
Rhode Island
Delaware
South Dakota
North Dakota
Alaska
Vermont
Wyoming
Flood Insurance in New Jersey FAQs
New Jersey is unique in that it has a similar risk profile for flooding as states like Florida, Louisiana, and the coastal areas of Texas. Want to know more about flood insurance coverage in the Garden State? We answer some of the most common questions below.