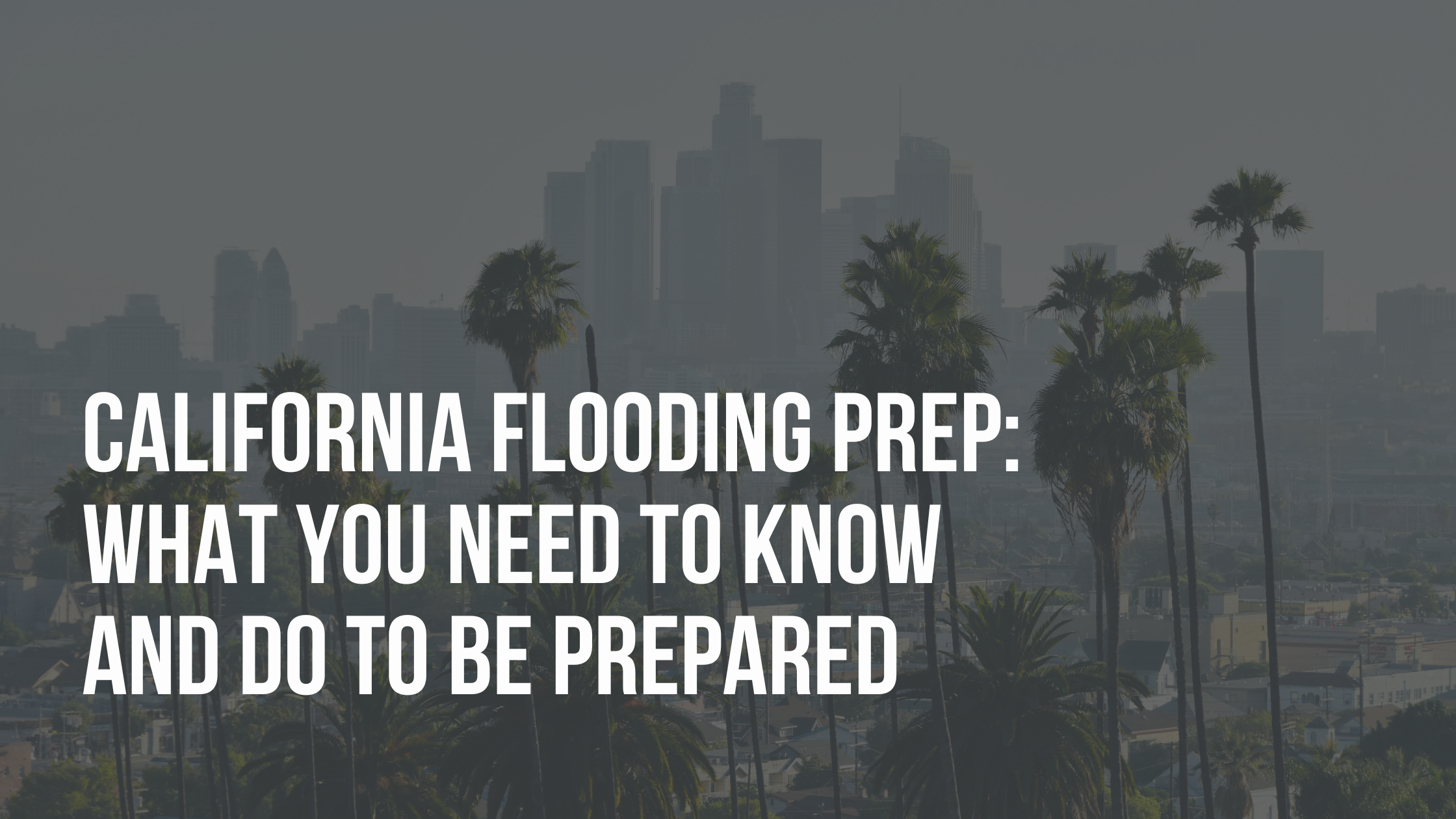 Flooding in California has been a hot topic recently because of the impact of near-constant rainfall over the past six months. With the Golden State making up 15% of America's total GDP, the potential losses caused by catastrophic flooding are immense.
The impact of climate change has hit California like few other parts of the country. According to the California Department of Water Resources, all 58 counties have been struck by at least one significant flooding event in the last 25 years.
With this in mind, it underlines the importance of preparing for the worst. In this guide, we examine the impact of California flooding and what home and business owners can do about it.
What Contributes to Flooding Risk in California?
Even though floods in California have left no county untouched, the risk of flooding isn't consistent.
Coastal areas are naturally more vulnerable than mountainous areas bordering Nevada. But what contributes most to the California floods timeline?
Rising Sea Levels
Rising sea levels are a primary cause of flooding in California and worldwide. According to the latest science, San Francisco will experience sea level rises of seven feet by 2100.
Statistics like that are a taste of what will ultimately contribute to more severe and frequent Northern California flooding.
Extreme Precipitation
Anyone who lives in the Golden State knows that rainfall is inconsistent. California is a state of contrasts, with intense storms and severe drought coinciding.
Areas of Southern California are still classified as being in drought, but SFO Airport reported a 23-day rainfall record in early 2023.
Sudden sharp precipitation shocks represent a significant threat, with flash flooding in California all the more common.
Rising Groundwater
Groundwater represents another problem. While it is the state's most precious natural resource, representing 40% of all water consumed in most years, some areas have seen groundwater rise to mere inches below the surface.
Rising groundwater can crack basements, erode roads from below, and prevent septic systems from functioning.
Again, this issue is most profound in the Bay Area and other regions of Northern California. On the other hand, the Central Valley has experienced a dramatic decrease in groundwater due to agricultural pumping.
These discrepancies are also represented on the FEMA California flooding map.
Long-Term California Flooding Solutions
The reality is that CA flooding will become more common. A study published in Nature Climate Change states that the most extreme winter storms could become 30% wetter by 2050.
While there is little the state can do about this issue, it can implement measures to alleviate the damage caused by flooding. Some of these actions include:
● Sponge Cities – Popularized in China, "sponge cities" naturally hold, clean, and drain water, such as through water recycling and fueling urban farms.
● Green Roofs – Creating urban gardens on the roofs of buildings can prevent stormwater runoff and neutralize the acid rain effect.
● Floodplain Restoration – In limited quantities, cities may want to consider restoring natural floodplains by freeing them from human infrastructure.
● Wetland Restoration – Restoring salt marshes, mangroves, and oyster reefs to form natural barriers to floodwaters.
● Raising Building Heights – Cities like San Francisco are already considering how they can raise buildings close to coastal and river waters to combat rising sea levels.
Naturally, focusing on climate resiliency and mitigation is critical to reducing the risk and severity of Cali flooding. However, getting the job done will cost billions in infrastructure and ecological investments.
Cost of California Flooding
What is the threat posed by the current California flood situation? For many, it's difficult to quantify the damage caused by floods. But it's clear to see that the damage to individual homeowners and businesses is far-reaching.
According to Moody's RMS, the total U.S. economic losses caused by the late 2022 California floods were $5-7 billion. In terms of losses to the public and private flood insurance markets, this same platform estimated losses of $0.5-1.5 billion. It demonstrates that the vast majority of people were not adequately insured.
Damages vary widely based on different counties, as the recent storms have not consistently hit the state.
For example, officials in Los Angeles County estimate that it will cost $100 million to repair the damage to public property as part of their preliminary investment.
Yet little attention has been paid to the long-term effects of California flooding. Another study estimated that it would cost $46 billion to repair and replace every building within the 100-year floodplain in the Bay Area alone.
Figures are often thrown around recklessly, but what is apparent is that frequent flooding costs homes, businesses, and the country billions of dollars.
California Flood Insurance is Essential to Managing Risk
Every Californian County is at risk of flooding. Even with this risk, less than 2% of homes are insured against flooding.
Ordinary homeowners insurance policies specifically exclude flooding as a named peril. If you don't have a dedicated flood insurance policy, you will be left covering the damage out-of-pocket.
Mortgage providers also recognize this risk and require applicants to take out and hold insurance for the duration of their mortgages if they reside within a designated high-risk FEMA zone.
Traditionally, only specific properties were eligible for FEMA-backed insurance policies. Many property owners refused insurance, falsely believing they weren't at risk. A new approach to insurance is required, which is why Rocket Flood offers the following:
● Higher coverage limits
● Intelligent add-ons
● Partnerships with reliable flood insurers
No home or business owner can do anything about their personal flooding risk, but they can avoid being left to pick up the pieces if disaster strikes. This is why flood insurance should be non-negotiable.
Safeguard Your Property with Rocket Flood
Nobody can argue against the fact that California is a highly flood-prone state. Flood risk is increasing, but flood management and prevention are not.
With Rocket Flood, we support Californians in protecting themselves against the risk of flooding. Our state-of-the-art quoting platform can save you up to 40% on your premiums from 20+ A-rated flood insurers.
Accessing California flood insurance[1] is just a few clicks away! Get your free quote in under three minutes from Rocket Flood to begin protecting your livelihood today.
About The Author
Garrett Mitchell is the visionary behind RocketMGA, a cutting-edge comparative rater platform for flood insurance. With a passion for innovation and a deep understanding of the insurance industry, Garrett has created a platform that is changing the game for insurance producers all over the USA. Under his leadership, RocketMGA has become a leader in the industry, offering insurance producers the fastest and most efficient way to quote flood insurance. Garrett's background in technology and insurance, combined with his drive for excellence, has made him a respected voice in the industry. Whether he's speaking at industry events or sharing his insights on the RocketMGA blog, Garrett is committed to making a difference in the lives of insurance producers and helping them achieve success. Get to know Garrett and the RocketMGA revolution today!