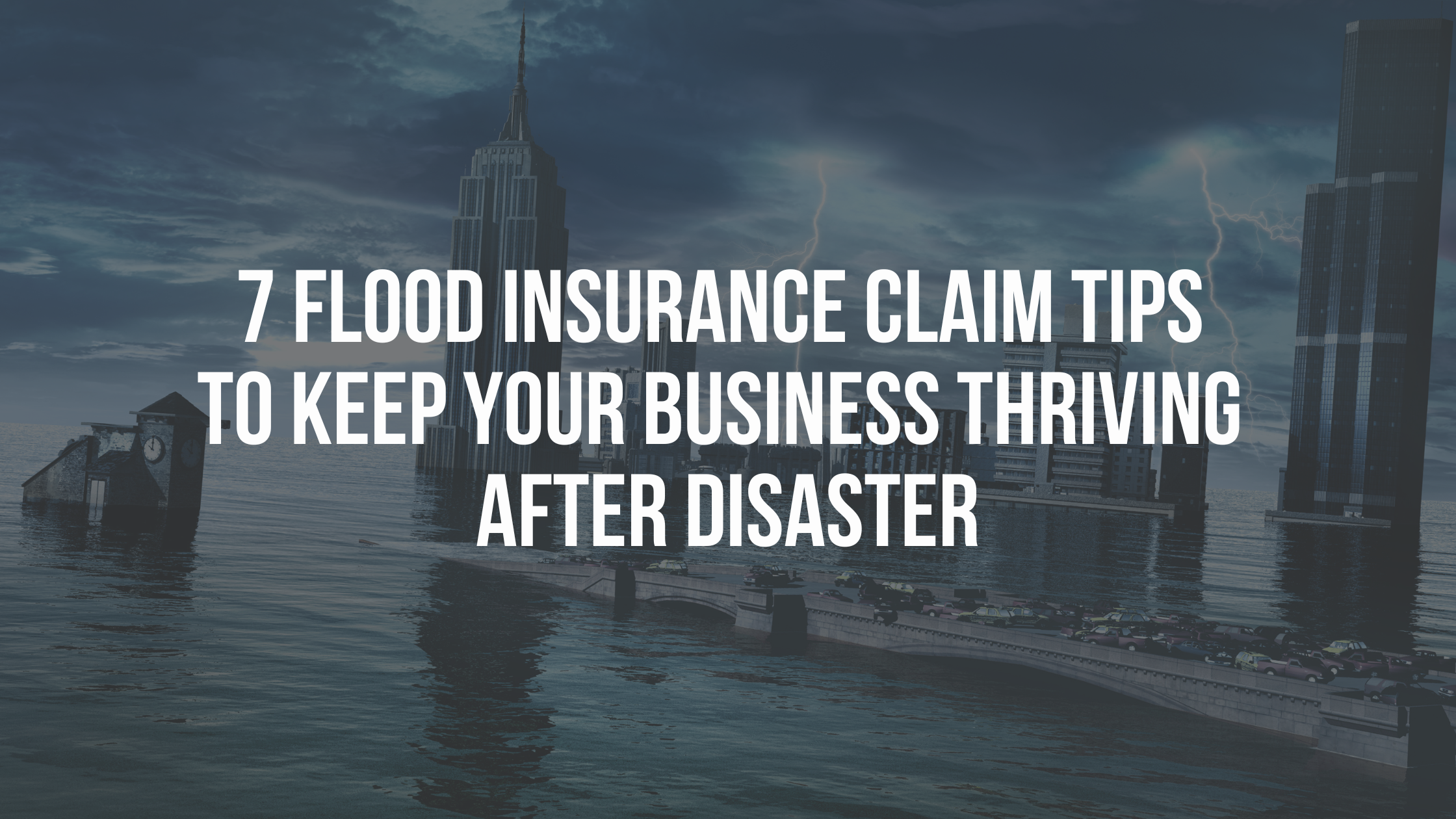 Are you a business owner who's concerned about the financial impact of flooding on your business? As a business owner, it's important to be prepared for unexpected events, including floods. Floods can cause extensive damage, leading to significant financial losses. That's why it's crucial to have flood insurance in place and know how to file a claim if your business is affected by a flood.
These tips for business owners will not only guide you through the process of filing a flood insurance claim, but also help you keep your business above water in the wake of a disaster. So, let's dive in and ensure your business is ready to weather any storm!
Notify your insurance company immediately.
If your business has been affected by a flood, you should notify your insurance company as soon as possible. Make sure to provide them with all the necessary details about the flood, including the date and time it occurred, the extent of the damage, and any other relevant information.
Document the damage.
It's essential to document the damage to your business thoroughly. Take photographs or videos of the damage and make a list of all the items that have been affected. This documentation will be crucial when you file your insurance claim.
Mitigate the damage.
It's important to take steps to mitigate the damage to your business as soon as possible. This might include removing any water or debris, drying out the affected areas, and taking steps to prevent further damage from occurring. Make sure to keep records of any expenses you incur while mitigating the damage, as these may be covered by your insurance policy.
Understand your policy.
Before filing a claim, it's important to understand the terms of your flood insurance policy. Make sure you know what is covered and what is not, as well as any deductibles or limits that may apply. If you have any questions about your policy, don't hesitate to contact your insurance company for clarification.
Work with your insurance adjuster.
When you file a flood insurance claim, an adjuster will be assigned to assess the damage to your business. Make sure to cooperate with the adjuster and provide them with all the information they need to process your claim. You should also keep records of all communications with the adjuster, including emails and phone calls.
Keep detailed records.
Throughout the claims process, it's important to keep detailed records of all expenses related to the flood damage. This might include invoices from contractors, receipts for repairs or replacements, and any other documentation that supports your claim. Having detailed records will make it easier to justify your claim and ensure that you receive the maximum amount of compensation you are entitled to.
Be patient.
Filing a flood insurance claim can be a time-consuming process, so it's important to be patient. Work closely with your insurance company and adjuster, and be prepared to provide additional information or documentation if needed. With patience and persistence, you can successfully file a flood insurance claim and get your business back on track after a flood.
In conclusion, floods can be a major threat to businesses, and filing a flood insurance claim can be a daunting task. However, with these 7 proven tips, you can successfully file a claim and ensure that your business stays afloat in the wake of a disaster. Remember to act quickly, document the damage, understand your policy, work with your adjuster, keep detailed records, and be patient. With these steps, you can protect your business from the financial impact of flooding and be confident that you're taking the right steps to keep your business thriving.
About The Author
Deena Gallo is an experienced author and speaker in insurance and financial planning with a B. A. in Literature, Digital Marketing, and Education, focusing on educating homeowners and business owners about flood insurance and the National Flood Insurance Program (NFIP). She has developed a deep understanding of communication and storytelling, using this to her advantage in her work. Her background in Education enables her to create engaging content that is easy to understand and learn. Deena Gallo is recognized as a vital thought leader in the insurance industry, where she provides expert insights and educates businesses and individuals on flood insurance and related topics.